romi wilson
bio
The Czech Republic and my studio
I am a creative designer who has touched a lot of mediums during my career. I studied applied arts with a focus in fashion design, photography, and concept. It was in this time of study I trained my aesthetics under the tutelage of some of the greatest designers in the Czech Republic while attending the Academy of Art Architecture and Design in Prague. Along with my major I was always passionate about typography and loved working on digital projects. After finishing school, it was natural for me to continue my design path. After observing a gap in the market, I co-founded an illustration studio in the Czech Republic. We focus on institutions and help them to bring their unique stories to light and represent themselves with pride. We also run a small e-commerce site and sell products in about 30 stores in the country.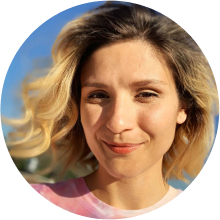 In New York from fashion to UX
After settling down in New York I started my career in fashion working for Oscar de la Renta and Ann Taylor, as well as working on the side for a fashion start up in Brooklyn. Inconspicuously my career was taking different direction. I was no longer designing clothes but pushing pixels on e-commerce websites. It was a soft transition with a great learning curve. I am improving my process and coding skills every day.

I have a passion for simplicity and minimalism - Not only in aesthetics but also in life. I love great views and that's why I work from the awesome Wework building at Flushing, Brooklyn. If you are local stop by and let's have a coffee together!